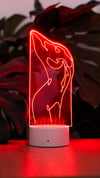 Continues line LED mood lamp.
It is quite bright and can be dimmed so as not to be distracting while falling asleep.
Powered by USB cord or 3 AA batteries (not included). Makes no heat and is safe for the little ones to handle. Costs pennies per year to operate.
Lamp colors - 7 Colors. You can press the ON/OFF button to switch colors.
About 6.7 x 6 inches. Big enough to be bright but not obtrusive.
The USB cord enters the back so it is out of sight.